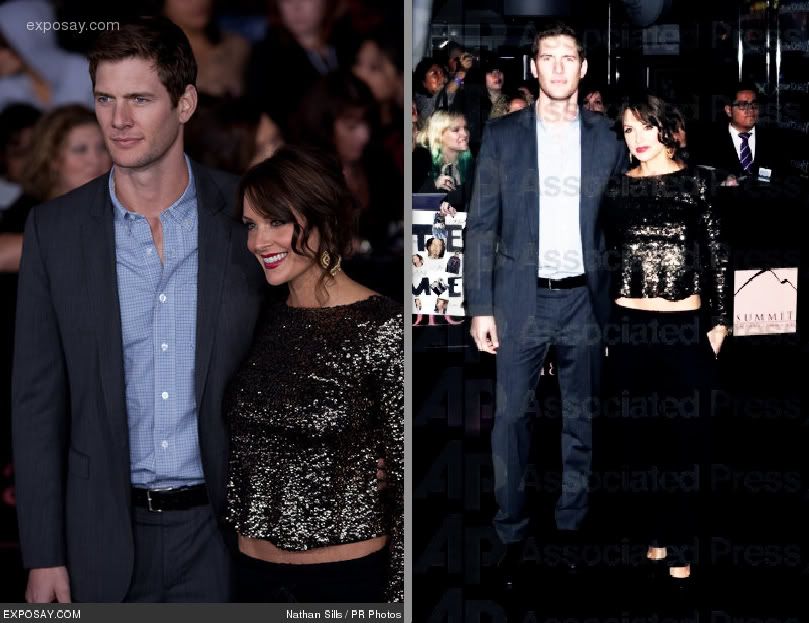 The Beautiful Danielle Kirlin-McPartlin with her handsome actor hubby Ryan McPartlin
On Monday night, Disco Pony got to shake his groove-thang all over the vamped up Black Carpet @ the Twilight Premiere "Breaking Dawn"! I was most excited to receive a very lovely email from the beautiful Danielle Kirlin, informing me that she just
had
to have the "Natalie Jumper" in Bronze for some red carpet events! Disco Pony's first Hollywood client! (Well if you don't include the suspiciously familiar gold sequin dress flashing past the screen on Gossip Girl that time ;) !!!) For the purpose of this we won't!
I have to say it' a great honor to have been contacted by Danielle, and to see Disco Pony out and about shmoozing with all the vampires! I think she rocked it exceptionally... putting a fresh, sports-luxe spin on things with a glimpse of super toned midriff! Kinda reminds me of
Nelly Furtado back in her Woah Nelly day's
... back when she was all midriff and pure awesome! Oh Nell Star, I miss you oh so so.
Thanks Danielle for sending me over a this gorgeous pic! You looked sensational! xx
Photos courtesy of
Exposay.com
and
Associated Press