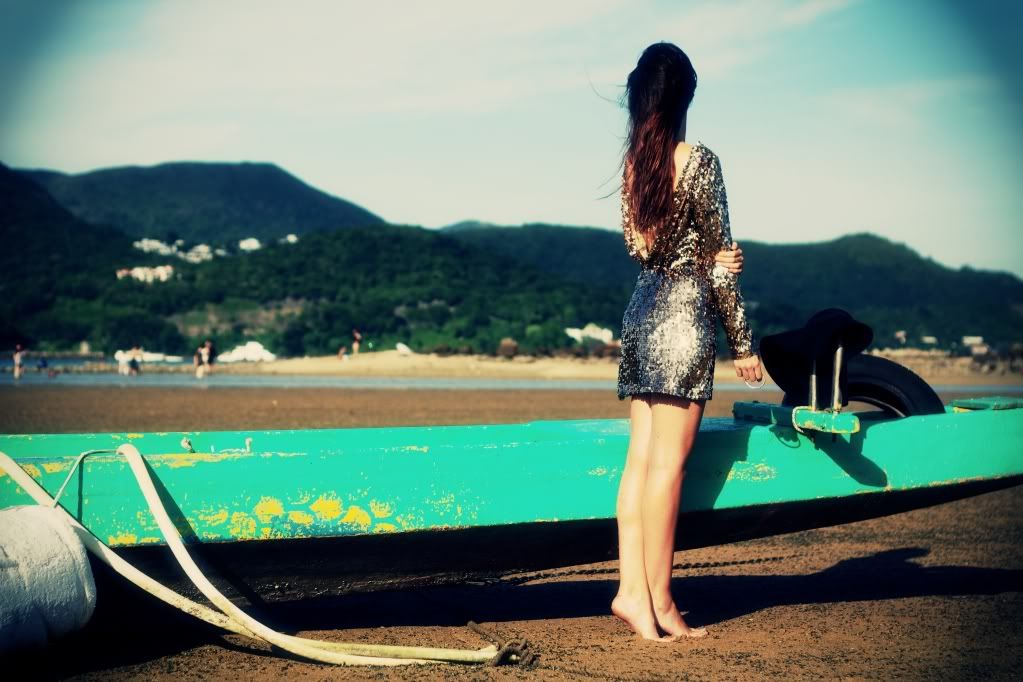 Gold Sequin Dress: Disco Pony, Black Sunglasses: Oysho, Striped Bikini Bottoms: H&M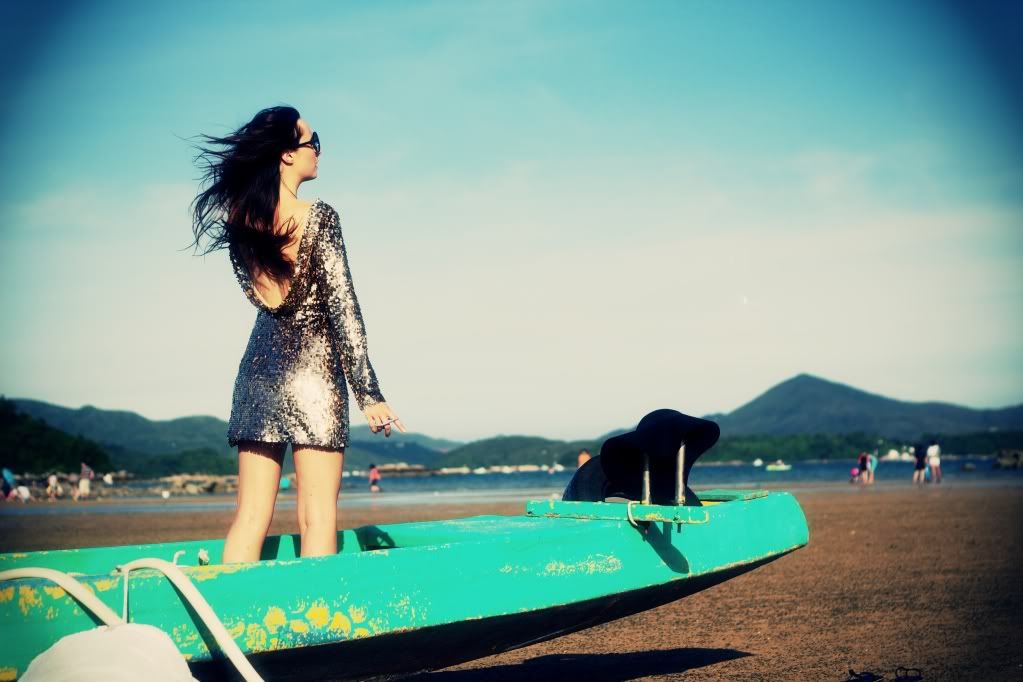 I am now offering custom made Disco Pony pieces, this can't last forever, so if you need some Disco in your life, please don't hesitate to email me with your deets @ zoeycrystyna@gmail.com <3 x
For your very own CUSTOM made Disco Pony piece please send me an email with your measurements: zoeycrystyna@gmail.com
Take a breath.... VERY long sentence with no structure ahead!
Having just awoken to the stunning photos of
Annika's
Clemence Poesy-esque (but hotter, way hotter) sister rocking out the Disco Pony Silver Surfer Jacket, (Which made me very, very happy indeed!) I stumbled upon another treat, the Swedish band
"Oh Laura"
which is currently playing on repeat- and shall remain this way for a rather long time I feel! I've been trying to upload this god-damn video of me being a song bird for Miss
Natalie SongBird Suarez
, singing
"Game Called Life"
by The
LeftOver Cuties
, but as most things technically related, youtube hates me with a passion, and has indeed failed to upload 99.9% of my efforts! Even when I switched my macbook for an air, it still refuses. Anyway... the point of all this rambling is in fact my round about attempt to explain, that after hearing "Oh Laura", I now feel it to be of utmost importance that I dedicate some time to singing Release me! And, in turn shall dedicate it to Annika and her friend/writer of the song
Erik
! Amaze!
Enough of that now!
So... I have a vision people... This is not my vision, it is but mere practice! Perfectionism is exhausting, but I can't rest until I have perfected the series of "Outdoor Disco Pony" shoots that I am envisioning!
Firstly I would like to say
I NEED A REAL MODEL
... I am almost completely drained by my own self criticism, and I feel after nearly a year of Make Shift Modeling, I have had enough! I am absolutely not a model... and a far too extensive array of self loathing consumes my mind for far too long apres photo shoots. Sad, I know, but very true... It's hard to fake being a model when you just dont feel it!
I may get over this boohoo my legs are not 6 foot long, and my skin is not dewy fresh and flawless, and my.... this list could go on foreeeverrrr and everrrrr... I hope I do! I'm not going to stop, obviously... I have far too much to do before I retire my make shifting... But I thought id get it out of my system!!!
Secondly! (Here I go again)
I NEED A TEAM!
This one woman show is ermmm, reallly hard work when it comes to shooting in extreme temperatures. I am one big ball of humid mess by the time Alberts even got to pushing the button... I need assistance! (Rocky Horror song now playing in head!!!) Somebody to fan me down and dab my head with a towel whilst I parade about in AW clothing in 40 degrees C! That would be ACE! Any takers?! I might just be bothering
this
fine lady! Ankita... be wary! hehe!!!
Right, now, over to the REAL point of this post... which is to say: For a short time, before I source a lovely small factory for my designs (Still 100% hand made of course- nothing changes, but the number of tailors I have working on the pieces!) I am taking all your gorgeous measurements down in order to offer you 100% bespoke tailoring- custom fitted for you. This can't last forever sadly, as it's a very lengthy process that takes a lot of time and whatnot, however, it is very important to me that when you get your Disco Pony piece, it is love at first sight, and then second when you see it on!
If you are interested in a piece, but are not sure about sizing etc, please dont hesitate to email me: zoeycrystyna@gmail.com and tell me what you would like. I will make it happen!!! There is no restrictions on size for this time... so I wanted to let you all know! If you gotta disco, DISCO PONY!
Hope your all well beautifuls, thanks for being so gorgeous :) Means more than you could know!
xx
Photography by Albert Dedeu