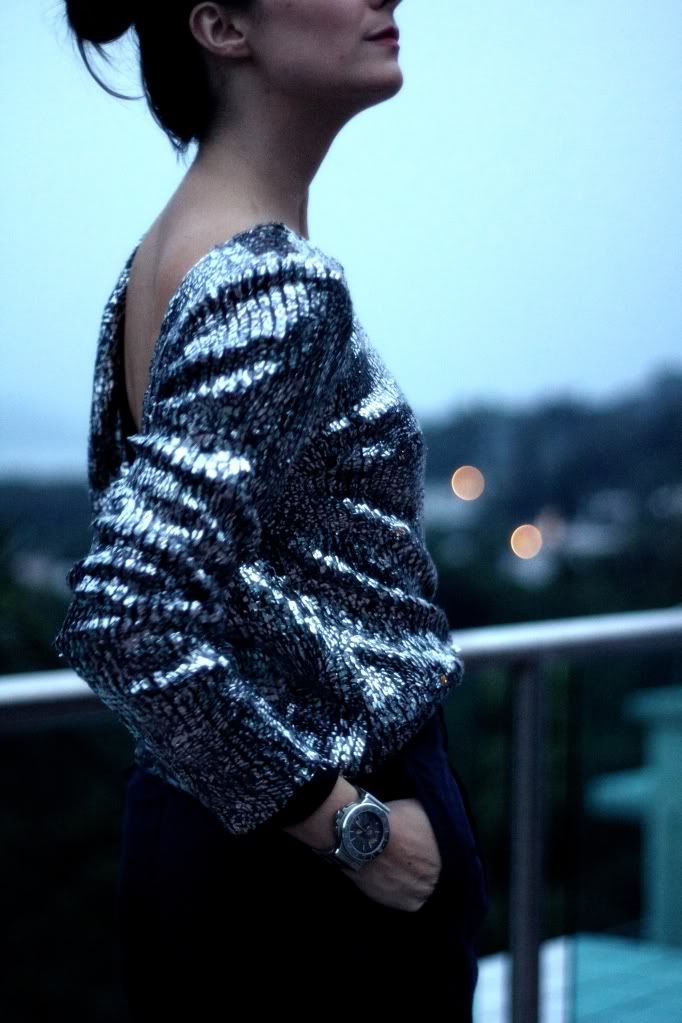 Silver Sequin Jumper: "Space Age" in Super Silver: Disco Pony, Watch: Bvlgari (mens) Navy High wasted Pants: Zara
SUPER SILVER SPACE AGE! Jump about in this and pretend you're on the moon!!!!
Sorry for the "realness" of my face! I'm an honest acne sufferererererrr, if I have a spot, I'm not going to rub it out! I have learnt to appreciate these little quirky things that love to visit my face so regularly these days!!! (kind of!)
I popped on the Navy version of the Khakis I was wearing in the last post... I think I own these trousers in every colour they came in! They are great to pair with something a little special to glam them up a bit!
This silver sequin is actually so different from any of the sequins I have worked with for Disco Pony... It has this tin foil flavour to it! (agh, that just reminded me of biting down on tin foil- when you have fillings this is SO AWFUL!) shudder!
I have a little bad news about this particular sequin jumper however, and that is that it has completely sold out. I have to run around Hong Kong and China for a while to find something similar when I am back!
However... it's worth you guys seeing it... just so you can see the different textures of the sequins I look out for... because there are so many ways to have a sequin piece!
I will keep you updated with my finds when I do eventually manage to get my hands on this or something similar again!
xx
Photography by Albert Dedeu