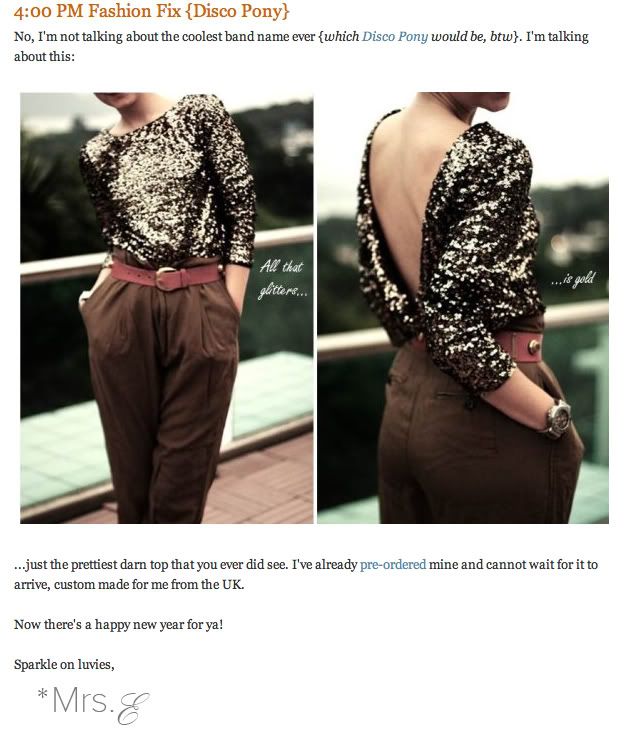 Last night, the amazing
Erin
of
Apartment 34
"Where Style Lives Happily Ever After" sent me a rather gorgeous email, delightfully swooning over the
"Natalie Jumper"
, which she has snatched up for pre-order next year. If you haven't already spent your days indulging in all the beautiful things Erin posts... you really must!
How oblivious I was that day when me and Albert sporadically decided to shoot the Disco Pony jumpers quite how many places this jumper would be blogged and re blogged, sauntered up the
"Black Carpet!"
and generally enquired about! It's amazing! I'm a little sad I'm not in HK now, getting on with the Pony... However, I shall be back very soon, juggling the sparkle season with the upcoming launch preparations for mid year! Eeep! :)
I'm not sure what planet I'm on these days... I appear to be right down by Devon in the UK this minute! Christmas plans are about to change dramatically, and I think I will be back on a plane to Hong Kong within a week! Good news for DP at least!!!
I hope you're all enjoying your festive countdown to chrimbo! Love, love Disco Bunnies! (New baby line?! ;) ) xx