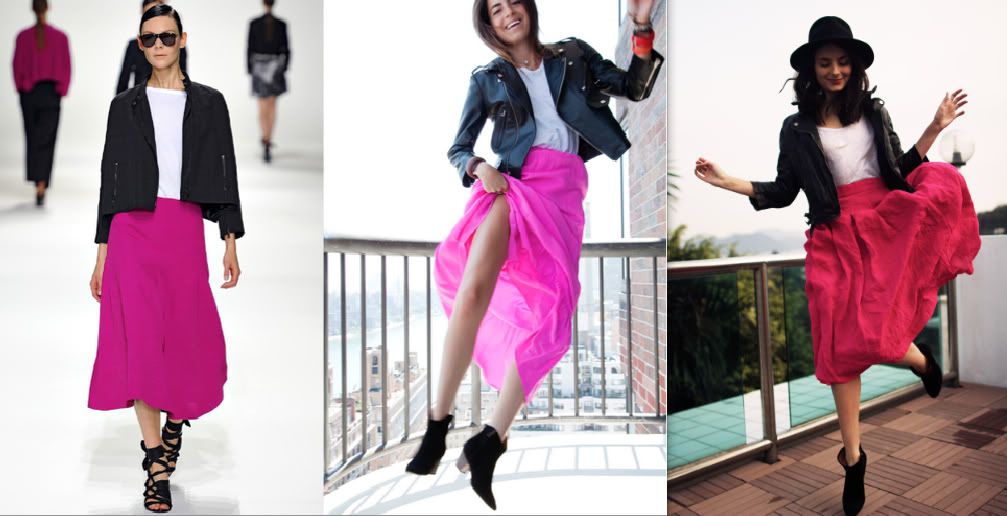 Photo Credits: 1. Dries Van Noten, 2. TMR, 3.er Je!
Iv'e had this eye-poppingly bright fuchsia pink skirt *WITH some frikin' brilliant POCKETS* rotting silently in my wardrobe since a big summer thrift back in August (for a minute there it thought it had been lovingly rescued from the musky depths of a Mong Kok thirft store, err WRONG- Sorry, pardon!!!)... I've been meaning to whip it out for some time... show it the light of the Hong Kong day n' all... and I too have had this "Who Wore It Best" photo on my laptop since ermmm Octoberish... Now, TMR = the most essential read, a must for all who like to stir up the repell on a daily...of course... However, a bit of a scary prospect when you decide you definitely need that thing she is wearing in order to breathe... yet, rather shockingly when you check where it came from, breathing is not something that happens for a few minutes- at least!
I thought I'd do a cheap-ass thrifty version... consisting of a 10 dollar (1 Euro) skirt, Zara tee, Berskha leather jacket (sale!) and a bit more Zara (zapatos!) aaaaand a vintage temple to topper it off!
Whatduthink?! Close?! More leg perhaps?!
Photography by Albert Dedeu