Floral Shirt: Thrifted, High Tops (Navy) Zara, Shoes- basically stolen F21! Hat: H&M
Inspecting for "glue line" evidence after I told him how much I got them for! CUTE!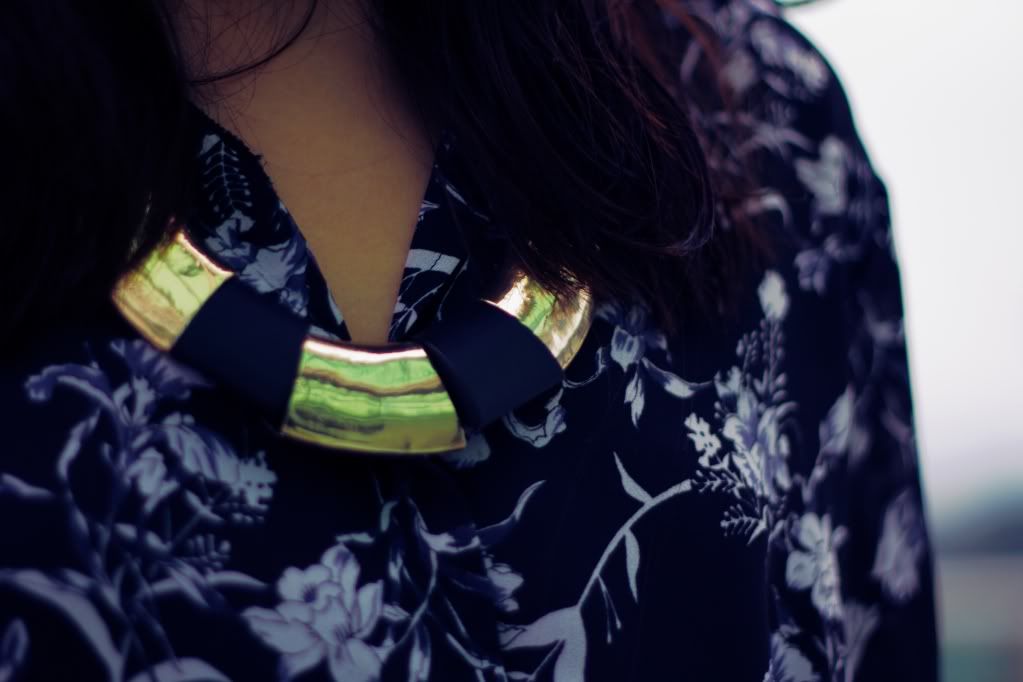 There is a story behind these shoes! Oh yes! Excited?! You should be!
Clearing throat... ahemmm. Well, Forever 21 opened here in HK a couple of weeks ago... I avoided it for the first few days... but by the third time I strolled casually past (on purpose!) I decided to just grin and bear it (I say- when I was in fact just grinning with antici.......pation)... see if they were as cheap as in the states... as most things here are marked up a billion percent despite the fact that 99.9% of the product is made right here anyway!
... Amidst the swarms of eager Americana wannabeeeeees (I, clearly not one of them!!! haha- clearly!!!) I spotted this sole pair of mega heels... just staring at me, looking all lonely and what not! Once in hand I pretty much hot stepped it for the cashier, grabbing a t-shirt or two on the way...wondering if I had enough moola to pay... Thing was, they only had the American dollar price on them... now, there is a big difference between the American dollar and the HK dollar, let me tell you! In USD they were approx $26... this in HK dollar translates to about $3 US!
Now... fortunately for me... be it a total blonde moment (haha thats quite funny seeing as blonde's are quite few and far between over here!) of the cashiers- or a moment of omfg I cannot deal with any more today (due to heinous swarms of fashion crazed youngsters all desperate for a bargain in newly opened F21!) so I am just going to pretend I do not realise that $26 cannot possibly be the price of these shoes...EVEN THOUGH that cheap ass t-shirt you are purchasing costs about 5 times the price... no, I shall just let you buy them for less than a coffee.
AND SO I DID! I basically robbed Forever 21...and you know what... I was not sad about it... most excited in fact. That there is my tale. I hope you enjoyed it... you probably did, because it was incredibly exciting. I know! ;) xx
Photography by Albert Dedeu