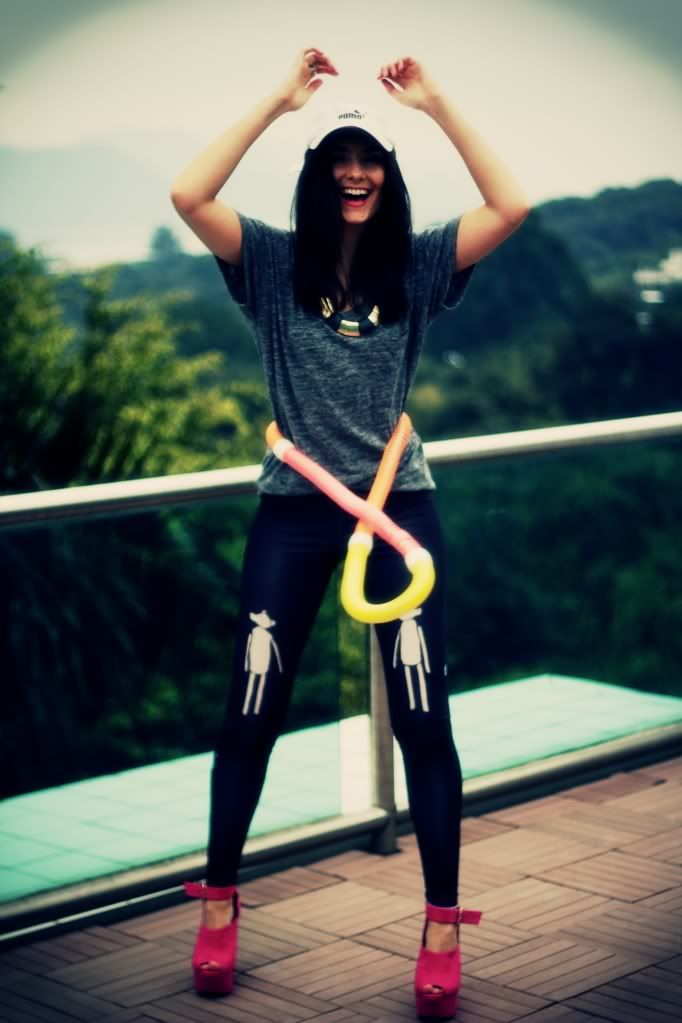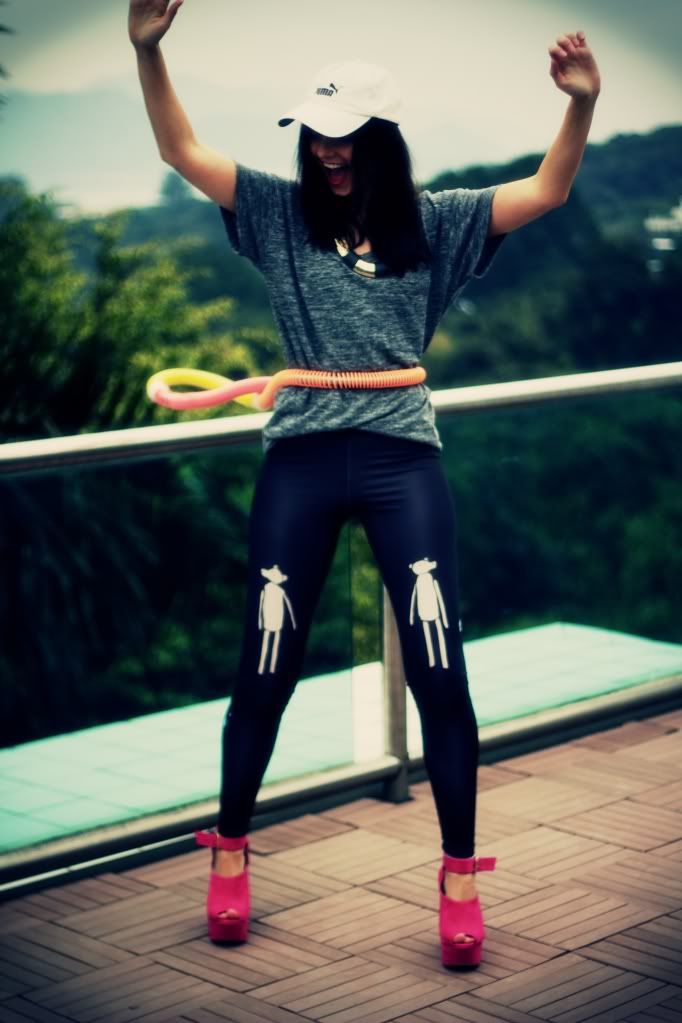 Tee: Club Monaco, Cap: Puma, Leggings: Bear Date by Daddyz, shoes: Topshop, Hula-hoop: Harrods (Sai Kung, which is not Harrods at all- we just like to call it that!)
I hear what your saying right now... IS SHE.. WEARING...A BASEBALL CAP?!!!
Why yes! Yes I am! I am also hula-da-hooping myself into a blissful state of childlike wonder too! Problem? I think not! You gotta try this thing- both actually... we don't wear baseball caps enough these days... Thoughts? Serious objections?!!
I like to get up to the roof in the mornings and spin this crazy disco hoop around my belly for as long as my unfitness permits! It's pretty hypnotic... staring out over the ocean, syncing yourself up to the universe with some totally rad harmonious circular movements! I highly recommend it. My Chinese neighbors are utterly entertained on a daily... Weird foreign girl in pj's and oversized puppy dog shape slippers thrusting her hips about about trying not to smack real puppy dog in the eye as he comes to smell 100mph spinning hula hoop!
Hula-hooping your way into happiness... It's a thing... I'm sure of it... If not, well Umgunna make it one! Copywrite (Don't even try it!)
Lets get onto these ridiculously cute-as-erm bears on a date leggings! (Hoping this legging post shall not appear on a thread of enraged legging haters... true story- that may have happened last time! It's fascinating how many people are offended by leggings!!!) To this I say... try them on! Baby, your jeans will be lonely for weeks- and your butt exposed in ways you never thought possible!!!
Sourced directly from the up and coming site Daddy Long Legz, a fellow
Chictopia seller
and HK dweller! This site is the BOMB! and you must check it out if you are a legging lover! Let me give you a wee showdown of legging options you can find on Daddy Long Legz... I dare you not to love something!
Because your legs are statements of intent.
Because your legs are your best weapon.
Because your legs are perfect with their imperfections.
Because your legs are you
Check Daddy Long Legz out on
facebook
too! Join in the leg fiesta! (semi borrowed phrase- credits to TMR)
Photography by Albert Dedeu