Wearing: Fedora: vintage, Shredded Leather Jacket: ASOS, Nude Pleated Skirt: Thrifted Vintage, Shoes: HK Shoe Boutique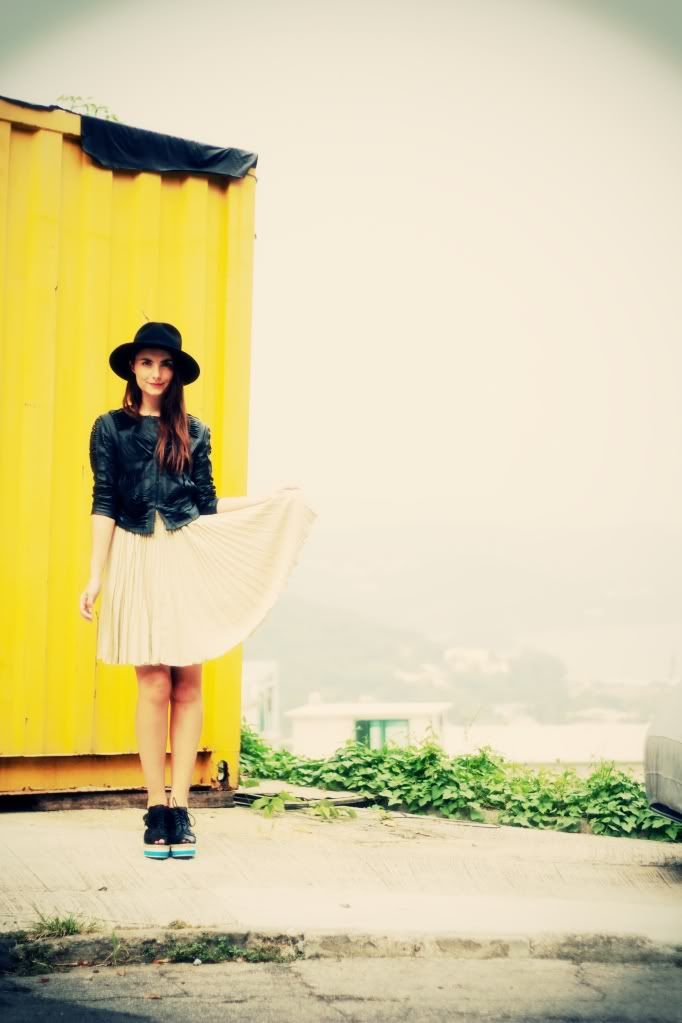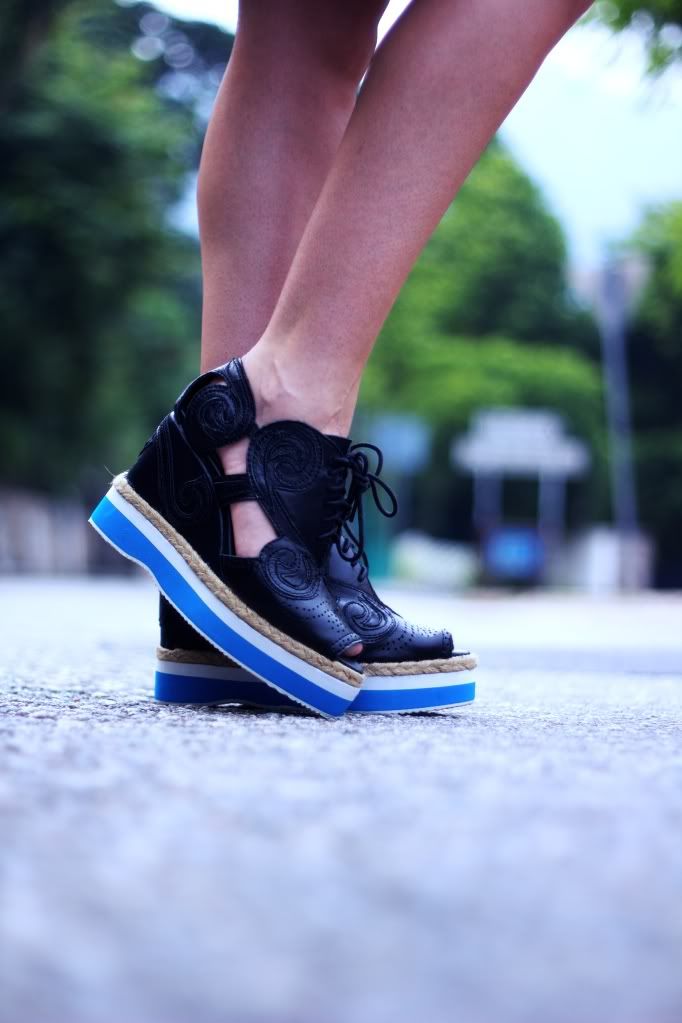 Please do your best to ignore my veins/ sock tan lines and look at the shoes!!! It's hot okay, and I've taken to hiking with trainers and socks before work!!!
Okay, so I'm cheating a little... This outfit is in fact made up of only one piece of thrited goodness... however, I am completely in love with this skirt! Talk about pleats please! Agh, it's perfection... Complete pleat perfection! P!
I'm still not actually able to wear this outfit in erm, real life situations, as it is in fact about as hot as a pre- heated oven ready to roast/crisp a turkey, but a girl can dream right! I can just see myself wandering down some ultra grimy-chic street in the meat packing district in NYC in much, much cooler climates, feeling all flowy and rockstar with the touch of leather and my blue striped loafers!
I love that you guys can't tell that I am in fact sweltering my balls off in my shoots! It's lucky too... coz it's not a pretty site once it's all over I tell you!!!
Sigh... so looking forward to wearing clothes again! I went on a much needed thrift store rampage the other day looking for a random special piece to wear to an event we were at last night... Needless to say I didn't find anything (for that event!) but I certainly stocked up on staple pieces for fall... Polka dot shirts, Midi skirts in hot, hot pink, A PADDINGTON BEAR DUFFLE COAT- eeep too excited to wear that! and other such goodies! I also picked up these shoes in my fave shoe boutique in the city. They always have one off designer pieces at sure low prices... so I snapped them up. The Prada loafers were one size too small, and not even I, miss one size too small IS FINE could cope! :( Oh well, I love the unusual sports luxe-ness of these shoes! The leather is super soft too!
I'm so thank ful to all of the AMAZING comments that were left by you guys about the "Wrong Kind Of Acne" post... I will be writing up part two very soon! Thank you for sharing your stories too, it's so good to know that I might be able to help even a tiny bit... I hope so anyway!
Hope your all well and thoroughly enjoying your Saturday lie ins! (My saturday is sadly almost over already...boo!) xx
Photography by Albert Dedeu